Many hopeful homebuyers seek to save money by buying a fixer-upper and doing most of the renovations themselves. This is a proven method for those who have a knack for home improvement and aren't afraid to get their hands dirty.
However, estimating the cost of a remodel can be difficult. There are many costs you may not be aware of, and others that are easy to go over budget on.
In this article, we're going to talk about the cost of an average remodel, and some lesser-known costs that you might be forgetting to factor into your budget.
Average remodeling costs
As you might guess, the cost of a remodel can vary greatly. Things like the size of the home, the number of rooms you're remodeling, and the type of repairs you'll be making all factor into the equation.
Some repairs can be quite costly. Septic system replacements can cost several thousands of dollars depending on the type of system you need. And, if you're buying an old home, you'll need to look out for expensive fixes like asbestos removal and foundation damage.
According to one report, most Americans spent between $17,000 and $61,000 on their remodel, with the average renovation cost being around $37,000.
If you're hiring a contractor for the bulk of your remodel, expect them to charge between 10% and 15% of the total cost.
Lesser known costs of a home renovation
Remodeling a home isn't as simple as looking up a contractor and telling them to give you the bill once it's finished, and that's probably a good thing because odds are you would be shocked by the cost.
First, you'll pay a contractor to do a walkthrough and estimate costs. Next, you'll need to get any permits that are required for your renovations.
If you plan on doing the renovations yourself, there are a few costs you'll need to consider. First, understand that you likely won't be able to take advantage of all of the discounts that contractors can, meaning your building materials may be more expensive than expected. Similarly, the cost of tools for the project adds up quickly. And, when you make mistakes--we all do, we're only human--you'll be paying for it out of pocket.
Knowing your long term goals
An important consideration for a remodel is to look toward the future. Do you want to sell your home within the next few years? If so, you might consider going with less expensive materials--such as generic kitchen cabinets rather than custom-built--to save money while still increasing the value of the home.
However, if you plan on being in this home for decades or more, it may be worth the extra money now to make sure you are happy with your home for years to come.
Remodeling a home can be a memorable and rewarding endeavor. You get the chance to take a house that you see potential in and make it truly your own. Now that you know the costs, you'll be better prepared for planning your home renovation.
If you're a newer homeowner, odds are you don't really "own" your home outright. Rather, you likely have equity in your home.
In this article, we're going to talk about what home equity is, how to use it to your advantage, and things you should avoid using your home equity toward.
What is home equity?
Unless you're one of the lucky few who paid for their homes in cash, you probably took out a mortgage. As you pay off that mortgage you build equity.
Home equity is essentially the value of a property that a homeowner has at their disposal due to paying back part or all of their mortgage.
However, there's another factor at play in home equity, and that's market value.
Since the housing market fluctuates, the value of your home does as well, and as a result, your home equity changes with the market value of a house. That might sound worrying, but the good news is that due to something called appreciation.
In the same way that the cost of living tends to rise each year with inflation, so do housing prices. However, appreciation isn't the only factor at play in the valuation of your house. As your home ages, it will likely need some renovations, which could decrease the home value.
Generally speaking, however, your equity achieves a net gain as you pay your mortgage and the value appreciates.
Increasing equity
Now that we know why equity can be so beneficial as an asset, let's talk about ways to build it.
The best way to build home equity is to repay your home loan. However, more than simply repaying, you'll want to repay in the fewest number of years to avoid paying more in interest. The longer you take to pay your mortgage, the more interest accrues that could have been used toward other investments.
The second way to increase equity is one we mentioned before--market fluctuation--namely appreciation. To improve the chances of getting a high appraisal of your home, it's important to keep up with maintenance and make smart renovation choices that will have a high return on investment.
Using home equity
The best use of home equity is to leave it be and increase its value over time. However, that isn't always possible for all of us. Since many of us need to move before repaying our full mortgage, equity allows homebuyers to use their equity toward their next mortgage.
Another option is to take out a home equity loan or home equity line of credit. Ideally, you'll only use these loans if you're planning on using the loan money to increase the value of the home via home improvement projects.
Borrowing against your home equity does come with risks. Since you are putting your share of your home on the line, there is a chance of your home being foreclosed on if you don't repay the home equity loan. However, lenders typically seek other methods of repayment or settlement before foreclosure.
Looking to relocate to California? Exploring the Golden State housing market usually represents a great first step for those who want to move to California soon.
Homebuyers who understand the ins and outs of the California real estate market may be better equipped than others to find a high-quality house at a budget-friendly price. Lucky for you, we're here to teach you about the California housing market and what to expect before you buy a Golden State residence.
Here are three things you need to know before you buy a house in California.
1. The housing market fluctuates constantly.
The California housing market varies. As such, a seller's market can morph into a buyer's market quickly.
For California homebuyers, it is important to dedicate the necessary time and resources to understand the differences between a seller's market and a buyer's one. By doing so, a homebuyer can boost his or her chances of acquiring a first-rate residence.
If you want to buy a California home, check out the prices of houses that meet your criteria. Also, examine the prices of California residences that recently sold. With this housing market data at your disposal, you'll be able to establish a realistic price range for your home search.
2. If you find a house that you want to purchase, you should submit an offer immediately.
Homebuyers likely will need to act quickly to acquire a California residence, and perhaps it is easy to understand why.
A top-notch California house is valuable, and as such, may sell only days after it becomes available. Thus, a California homebuyer will need to be ready to submit a competitive offer on a home that he or she wishes to purchase – or risks losing this residence to a rival homebuyer.
If you find a Golden State home that you want to buy, submit an offer as soon as possible. Because if you wait too long, you may miss out on an opportunity to acquire your dream residence.
3. Hiring a real estate agent can make it simple for you to navigate the homebuying process.
A real estate agent can make it easy for you to transition from homebuyer to homeowner. This real estate professional can serve as your guide throughout the homebuying process, enabling you to find the perfect California home without delay.
If you hire a real estate agent, you can eliminate potential roadblocks that could slow you down along the homebuying journey. For example, your real estate agent will keep you up to date about new California homes as they become available. He or she also will offer homebuying tips, set up home showings and negotiate with a home seller to help you get the best price possible.
Perhaps best of all, your real estate agent will offer honest, unbiased recommendations. That way, you can make an informed homebuying decision and purchase a Golden State residence that you'll be able to enjoy for years to come.
Take the guesswork out of purchasing a California house. Use the aforementioned tips, and you should have no trouble buying a terrific Golden State residence.
Putting your home on the market is not for the faint-hearted! As many people discover along the way, the road to selling a home can be rather bumpy -- especially if you attempt to sell it on your own.
Fortunately, there are several things you can do, right away, to make the journey shorter, smoother, and more rewarding. Here are three strategies that will greatly increase your chances of success.
Find a seasoned real estate agent. An experienced real estate agent will not only help you navigate state and federal regulations, negotiate with buyers, and get a handle on paperwork, but they'll also schedule showings of your home and provide continuous marketing help.
Enhance your curb appeal: When it comes to finding prospective buyers and setting up appointments, your real estate agent will do the lion's share of the work. However, it's mostly up to you to make sure your house looks its best and that the appearance of your property catches the eye of house hunters.
Once your home is listed online and a "for sale" sign is planted in your front yard, potential buyers are going to immediately take notice of how your house looks from the outside. Sometimes people browse listed houses from their cars, so it can really pay to make a great first impression from the street.
Some of the things that matter the most are a meticulous-looking yard, a clutter-free property, and a house that looks like it's well maintained. Adding a fresh coat of paint, displaying some colorful potted flowers, and taking care of unsightly weeds and overgrown bushes are a few things you can do to make your property look a lot more inviting.
Stage your home's interior: Once you've cleared the first big hurdle (curb appeal), your next priority -- or perhaps a simultaneous priority -- is to make the interior of your home look inviting and appealing. As is the case with boosting curb appeal, your real estate agent can provide you with cost-effective advice on how to get the most mileage from your efforts.
Some of the tried-and-proven methods of staging a home include reducing clutter, arranging living room furniture in "conversational groups" to depict a cozy, intimate environment, and letting plenty of natural light stream in to make your home appear as cheerful and bright as possible.
Fresh coats of neutral-colored paint should be applied to walls and ceilings on an as-needed basis, and all floors, tables, and counter tops should be kept immaculate. Home staging consultants often recommend removing (or toning down) certain decorating themes -- such as sports, religion, or even too many family photographs -- which may alienate some potential buyers.
The overall objective is to make it easy for house hunters to imagine themselves owning and living in your home. If there's anything about the appearance, decor, or smell of your home that makes people feel in any way uncomfortable, that could make it more difficult to find a committed buyer -- which, of course, is your ultimate goal!
This listing recently sold for $420,000.
Just Sold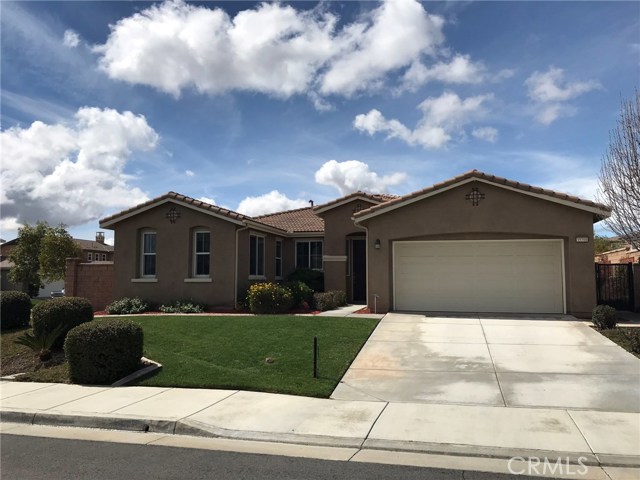 Turnkey Single Story Home on a Cul-de-sac street in a quiet neighborhood. Access to Spencer's Crossing Pool and Amenities. Located in the sought after area of French Valley, this is a rare, large footprint single story with four bedrooms. Alumawood covered patio for extended outdoor California living. Back yard just big enough for your dog and beautiful gardening. Excellent Cul-de-sac neighborhood on Swift Fox Court away from busy streets yet close to main thoroughfares (Including new Clinton Keith Corridor) bringing quick access to the highly rated Vista Murrieta High School, 215/15, Santa Rosa Plateau and Old Town Murrieta. This home is tastefully decorated and ready for your preferred decor. Neutral tile, carpet and paint colors. Very large granite kitchen area is an open layout great room ready for your large screen TV and perfectly suited for entertaining. Easy access to the Temecula Wine Country. Ready to blend quality of life along with standard of living. Your offer is the first step. See for yourself.